Videotape
Restore • Digitize • Preserve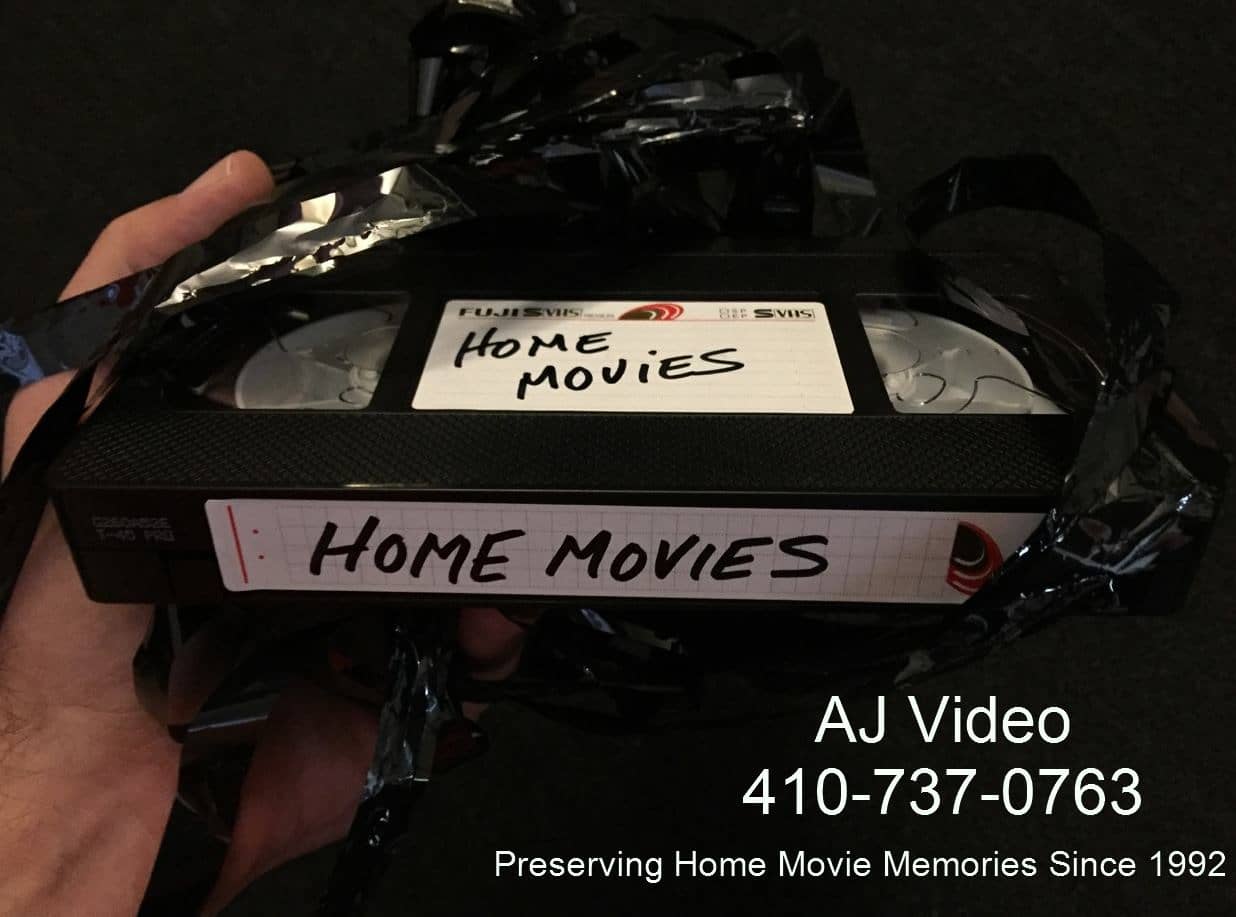 Have damaged tapes? Ask us about repairs
AJ Video Services offers professional video conversion and transfer services. We handle many different video formats, including VHS, VHS-c, 8mm, DV Cam, MiniDV, Hi-8, Digital 8, and Beta. We also offer tape repair.

*Commercial/Broadcast formats available – Call for details*
Been my go-to for over a decade including our VHS wedding tape, super 8mm and 8mm conversions.
Michael C.
Amazing work! Jim transferred my treasured kids videos from DV tape to a hard drive. The quality is amazing even though they were recorded in standard definition. Thanks Jim!!!
Asif M.
Re: 8mm camcorder cassettes to DVDs. Excellent service. Thorough explanation of what to expect and very timely. Very pleased with end product.
Teresa P.
Reasonably priced! Wonderful Conversion to DVD job done on a VHS tape that was recorded in 2002. I am already returning with another conversion request. People friendly and quality service at it's best!!
Patricia M.
I had my wedding and reception video transferred to DVD and a flash drive. The quality was just as good as the original VHS. The pricing was explained up front and was very fair. And I learned how to edit clips of the videos for posting to Facebook and YouTube. My husband was completely surprised and delighted!
Maureen W.
Jim converted a VHS home video from the 1980s to DVD for us, and the quality of the converted media ended up better than the original! I don't know how he managed that, but I guess it's some combination of skill and magic. Friendly, communicative, informative service. I will be back once we (hopefully) locate the other lost home videos! Thanks so much, Jim!
Jennifer S.
AJ Video is exactly the highly competent, straightforward, no nonsense and friendly service provider that individual customers should look for. They especially look after people who may not know much about media conversion services. Results are top notch, the price is reasonable and the customer service is unbeatable.
GGC
I love finding great local gems to do business with and support. AJ Video Services is my new favorite. If you have cherished family videos, films, slides, etc, this is the place to go. If you crave, like and appreciate excellent service and communication, you get it here, Jim gives it and goes beyond. Very much appreciated. For my first visit, they transferred a VHS Tape from 1983 to DVD copies and a hard drive. 1983! Very happy. Absolutely going back with any and everything I need preserved from here on. I couldn't be happier that I went there. Thank you very much.
Gene B.
Jim did a phenomenal job converting VHS tape to DVD. He was personable, professional and very knowledgeable. Even though we are moving thirty minutes away after this, we will definitely be using him for any future services needed. Thank you!!!
Ana H.
What a great job taking 8mm film and VCR tapes I found in my moms basement, some of it water damaged, and cleaning it, sorting through it and getting it digitized and organized. These are moments that me, my kids and all of our relatives will forever be grateful to you for saving and allowing us the opportunity to see our great, great relatives. Thanks you so much!
Mark W.
Just great. I came here a little over a week ago to get 14 VHS-C tapes converted to DVD for a Christmas gift, not expecting them to be done by Christmas given the short notice. Yet, today I got a call from Jim telling me they were all ready to be picked up. The conversion is excellently done, and I'm so thankful that they were able to get it done before Christmas. Jim was a lot of fun to talk to and I plan to come back to get other conversions done in the future!
Tyler W.